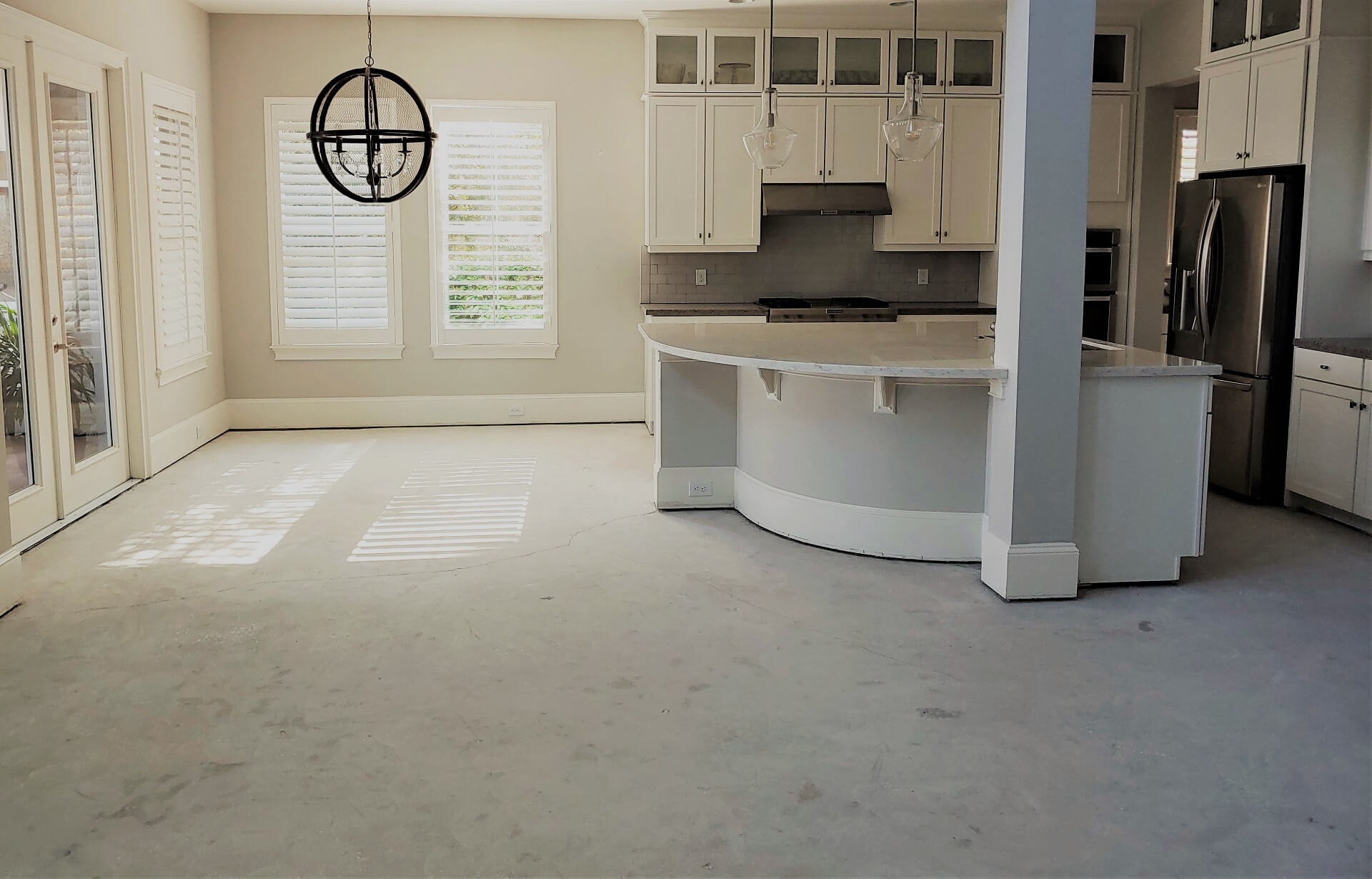 Professional Dust-Free Tile Removal in Deland
Tile removal can be very dirty and hazardous!
Central Florida Dust-Free Tile Removal has a solution for you in Deland that is Safe, Clean and Efficient.
Deland's Residential & Condo Specialists
Should you try to do-it-yourself?  Here's why you shouldn't…
Χ

  It's a difficult job – it's not easy to break apart ceramic tiles and thinset.


Χ

  It's very messy – dust and gravel can make for a HUGE clean-up job.  Fine, airborne silica dust will settle everywhere.  You'll never be able to clean it all up.


Χ

  It can cause injury – razor sharp shards of ceramic tile can cause serious injuries & blindness.


Χ  

It can be disabling or deadly – especially if you have allergies or asthma.  Even if you're healthy, the dust can cause disabling lung illness or death!
Without our patented Dust-Free Tile Removal system…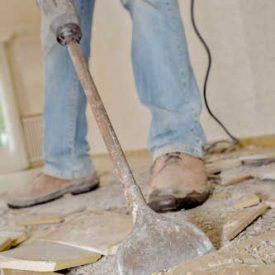 Is very, very difficult!
Even if you have the proper tools to do the job, it won't be a walk in the park.  The proper tools are expensive and they still leave you facing a big, messy job.  The thinset can be difficult to remove.  Even if you can remove it, the resulting surface will be rough and uneven.  That's not a good surface to apply new flooring to.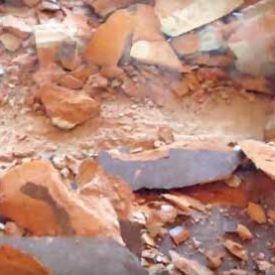 Will make a huge mess!
Without our dust-free tile removal system, tile removal is a very dirty, dusty job!  You would be surprised by the resulting amount of broken tile and thinset.  Fine gravel, dirt and dust is always a by-product of tile demolition.  Fine silica dust will become airborne, spread throughout your home and settle everywhere.  You'll never be able to clean it all up!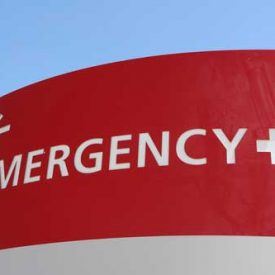 Can result in serious injury!
Ceramic tile has some similarities to glass.  Tile tends to break into sharp pieces similar to razor-sharp shards of glass.  When these sharp pieces become projectiles, they can cause serious injuries. Injuries are likely to occur. Eye injury can result in blindness. Professionals use special gear to avoid a medical emergency.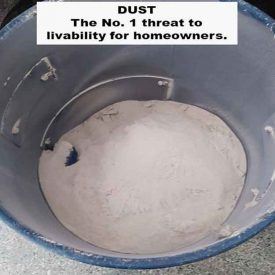 Can cause permanent health problems!
Tile demolition can produce lots of airborne silica dust.  The airborne dust can spread throughout your home.  Inhaled silica dust can cause an asthma attack in people with allergies and lead to silicosis.  The U. S. Department of Labor produced a video explaining the danger of silicosis.  Watch the video, "Stop Silicosis" here.
The danger of silica dust
The process of tile removal produces silica dust.  According to OSHA, silica dust is a serious health danger.  During tile demolition, silica dust can become airborne and spread throughout your home, leaving a coating of silica dust on furniture, beds, counters, floors – everything in your home.  You'll spend hours… probably days… cleaning your home – and never get it all.
The dust can cause an asthma attack in people with allergies.  Worse, silica dust can cause silicosis, a irreversible and disabling disease.  Silicosis can eventually lead to breathing difficulty, heart failure and cancer.
Watch "Stop Silicosis" here.
What is your best solution?

⇒  Leave the job to professionals with proper equipment and experience!

⇒ Accept nothing but a company using a safe, clean and efficient dust-free tile removal system.

⇒  Choose a business with proper licensing and insurance.

⇒  Deal with a locally-owned and operated business that can provide great, personalized service for you in Deland.

⇒  Read online reviews left by customers who have dealt with the business.

⇒  Choose Central Florida Dust-Free Tile Removal LLC for all your tile and flooring removal projects in Deland.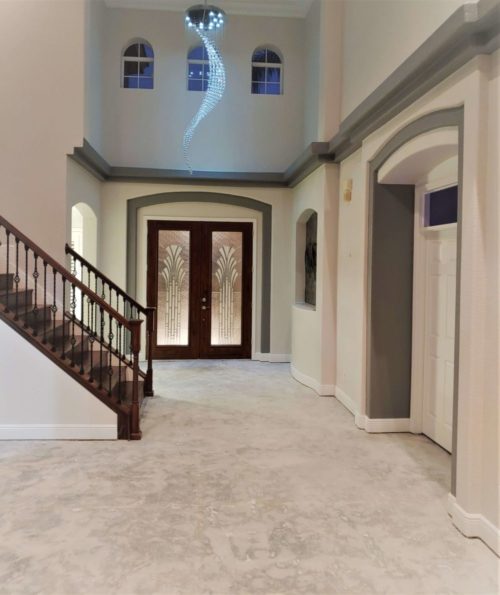 We use patented Dust-Free equipment along with our own special processes for safe, clean, efficient tile removal.
Read what our customers say about us…
I will never remove flooring or tile myself again! Call Jesse and let these guys do the work. You won't regret it!

Jeffrey Payne
17:34 29 Sep 20
Heidi was my first contact when trying to get information. She made everything so easy especially during the Corona.Brett and the crew came yesterday to remove our tile..... WOW I cannot believe how professional and clean the process was. Knowing that I had a Double Lung Transplant they took even more care in the house. If you have medical issues this is the way to have your tiled removed.All of the crew was amazing and just so pleasant.I HIGHLY RECOMMEND them for your next Dust Free Tile Removal. They will not disappoint. It is so rare these days to brag about people and their business. I find it refreshing to be able to go on and on with great service.Thank you for doing such a great job for me and making me feel safe with my Lung Transplant.....

Jonni Hultin
17:40 19 May 20
After finding out this process even existed I called them to remove tile in my home. I have a saltwater aquarium and the dust would have been a nightmare and possibly killed my fish and corals. They came in and in a day they got rid of all the tile we had. They don't lie when they say it is dust-free. We had no problems and they cleaned everything up when they were done. I'd highly recommend them! I was recommended to them from a Facebook post. The communication was exceptional from start to finish during the whole process. This company did a fantastic job helping me removing the tile in my house. The job was done, looks great and it was a quick and painless process. Not having all the dust in my house was amazing. The machines they use are super high-tech. If I could give 10 stars service from beginning to end I would.

Kim Teachman
14:04 03 May 20
Bret and his team do amazing work! If you have allergies or just don't want to spend days cleaning your dust covered house from flooring removal, I would highly recommend them. 10 stars if I could! I had tile flooring and a tile bathroom removed prior to new installation. They were professional, on time and left the place immaculate! I would definitely use them again!

Laura Stanley
18:06 07 Apr 21
If you need to have tile removed and know how horrible it can be with dust, we had these guys out today in our West Melbourne home and they did an amazing job. Very professional and very happy with the results and minimal to no dust. They removed tile from two of our bathrooms and indoor laundry with fantastic results too. Worth every penny! "5 stars ☆☆☆☆☆ " Communication was great understood what they were doing. Guys really did a great job removing my tile flooring and keeping it dust free. Highly recommend!

Anthony Lopez
19:25 27 Jan 21
I can't say enough good things about this company and crew. I highly recommend them. I began to tackle removing tile from my home and quickly realized that it was too much dust and work, since we also are living in the home. Heidi was wonderful, helpful, very easy to talk to and answered all of my questions. The guys showed up early and ready to tackle the job; They were very polite, professional, respectful, helpful, and efficient. I am very pleased with my experience and would definitely use them again! I'm very grateful.

Erica Manns
16:27 02 Dec 22
I had considered renting the equipment and doing this job myself. However, after reading some info on the hazards of the dust that's created and unexpected problems that can pop up I decided to bid it out.After talking with the office at Dust Free and getting a general quote I felt that their price was high so I made some more calls. I did find another vendor from the West coast of Florida that said they would do the job for about 20% less and was intending to move forward with them. Then Bret called me and shared some info about their process and how true dust free tile removal was supposed to be done.I followed up with the vendor with the lower bid and asked them to share some information about their process and how they achieved their dust free claim.After listening to the explanation it was clear that the cheaper vendor had a cheaper process and was using some short cuts to try and achieve a dustless end product.I decided to go with Bret and Dust Free and spend the few extra dollars and couldn't be happier with my decision.They showed up on time with a large crew of experienced and well equipped workmen. It was obvious they were equipped to not only do the job but also deal with any unforeseen issues that might pop up in the process.Luckily, there were no unforeseen issues and the team from Dust Free had out tile up in short order.I wouldn't hesitate to recommend them to anyone looking for tile removal service.

Greg Holbrook
19:02 07 Jun 20
Tile removal more than met my expectations. The job was done fast, clean and competitively priced. The crew was professional and courteous. I would definitely recommend them.

Nancy Gross
18:12 19 Oct 21
We recently moved into our home and we needed outdated tile to be replaced. My husband was very apprehensive to do so, due to the dust and mess that tile removal creates. A tile contractor suggested Central Florida Dust-Free Tile Removal and we couldn't be happier. Bret and Heidi were amazing at getting everything lined up and ready to go. They sent an extensive checklist to get the house ready for the removal. This checklist made the process run very smoothly. A team of 5 very friendly professionals arrived on time and the work was completed in the time promised. The team was very flexible as we found some additional demo work that needed to be done and they made it happen. When the demo job was completed and our tile guy decided, at the last minute, that the job was going to be too much for him. Bret and Heidi went above and beyond to supply us with contact information for a new tile crew. I would highly recommend Central Florida Dust-Free Tile Removal for any tile removal and demo work. If you are hesitating to replace old, outdated tile, DON'T. Call Central Florida Dust- Free Tile Removal! Bret, Heidi and the whole team were amazing. I can't wait to get my new tile!

Jackie Gogel
10:56 22 Jul 21
Didnt even know this dust free removal system existed! Im so happy we met at the flagler home show. You saved me the stress of packing all my belongs, a/c vents and time! Punctual and all! What more could i ask for 🙂 Highly recommend this company What they advertise is what it is. Dust Free. I am a double lung transplant patient and caNot breathe in the dust that tile removal cause. They made sure I stayed safe. Went beyondHighly recommend We hired Central Florida Dust Free Flooring Removal to remove all of the Travertine and Ceramic Tile, base boards, and shower Ceramic Tile in the Guest Bath, as part of a total renovation of our first floor. Chris and his team did an awesome job! They arrived on time and worked for over ten hours. Everyone was very professional, polite and courteous. The result is unbelievable! They removed over 99% of the dust. There was only a lite coating of dust on the counter tops, about what you might expect if you hadn't dusted for a week. Compared to what I have experienced in a project in another State, I will never consider any other option for flooring removal if we ever renovate again. This was worth every penny and for the peace of mind that comes from knowing the job was done perfectly and left no mess for us to clean-up. Thank you Central Florida Dust Free Flooring Removal for an incredible, outstanding job!

Randy Scheff
13:30 13 Oct 23
Great job done by Central Florida Dust Free Tile Removal - Their team came in and removed the old tile without a problem. Very professional job done by the whole team will highly recommend them anytime!

Doug Colbary
13:26 09 May 21
I would HIGLY RECOMMEND CF Dust Free Tile Removal for any demo job needed in your home - especially if you are living in the home during the demo/remodel process. They arrived on time & were done in 2 days after estimating 3 days of work! The team was polite and the owner worked with the guys both days. They respected my home and did not damage anything. Their process was amazingly efficient and basically dust free. I did wipe off my counters when they were done but there was really no dust/debris on them as they covered everything with drop cloths. They removed 1600 sq feet of tile/wood flooring in the home and did other demo work in my master bath and laundry rooms.

Christa Suter
16:07 23 Sep 20
WOW - Finally a company that delivers, arrived on time, completed everything went above and beyond, had tile removed in 60% of our home and no more dust than on a breezy afternoon with doors open. Want a treat and get more than what you paid for give these guys a shot you will be glad you did, HIGHLY RECOMMEND! 🙂

Bob Carroll
20:44 30 Jun 19
Great service. Very friendly. Very professional. Great job. Did exactly what was promised. On time and my tile installers said they did a great job. Bret and Heidi and their team are wonderful! Highly communicative, punctual, reasonably priced and did a terrific job! We highly recommend them!

Jillian Adams
19:34 05 Sep 19
Dust Free did a fabulous job of removing our fireplace as part of our remodeling. They were punctual, professional and did they job just as promised. There was little to no dust after a very messy job. The floor under the hearth was cleaned and ready for new tile. Highly recommend this company for demolition jobs. The cost was reasonable for the service provided.

Teresa Hall
14:04 15 Jul 21
Professional, clear advice on what to expect, hard workers, amazing job, and best of all, VIRTUALLY DUST-FREE tile removal! We had CFL Dust Free remove some old ceramic tile for us during our Reno and I can't recommend these folks enough - one of the best experiences with any contractor. Their work was excellent, they were extremely flexible with a few small hiccups prior to the project starting, and very professional.Thank you so much!

Joe DeBello
00:17 17 Dec 20
Great work. All tile removed and floor smoothed without a mess. Friendly courteous crew. We will certainly use their services again for our next project.

Raymond Hess
13:07 07 Sep 19
We were so apprehensive to start remodeling our house because of all the demolition that was needed. All it took was one phone call to Central Florida Dust-Free Removal and our worries were over. Brett took care of everything. The crew was efficient and careful. In one day an entire downstairs of tile was removed and a guest bath and shower was demolished - they even wiped down the counters and cabinetry before they left. Thanks Brett, Heidi and Stephanie for making this happen.

D Daviduke
21:26 16 Oct 20
Great job. Great service..before & after

Kris Strine
15:18 23 Jan 23
All I can say is that if you do not use this company, you made the wrong choice! Their communication was amazing! The crew that came to our house to do the tile removal in our dining room was amazing. When they say that this is a dust free process, it absolutely is!! Thank you for everything!! I highly recommend Bret and Heidi!! Professional team from quote to completion. Tile floor removal performed on time and at estimated cost with minimal interference and dust possible. Follow their detailed on-line instructions before their arrival and old tile will be gone quickly and efficiently. Floor is ready for installation of new material. Good removal team!

Dean Burner
11:14 21 May 20
Brett and his team did an incredible job at our home yesterday! Everything happened just as described ahead of time (they have an extremely thorough preparation form, of what to do to get ready for them). The team arrived on time. Within less than 3 hours all 1100 square foot of tile was out of the house! A couple of hours later, the thin-set had all been ground off... vacuumed, and they were out of the house! Very efficient team of folks, that work well together. They ran (4) chippers and (4) grinders throughout the day, which made the work go very quickly. We are living in the house during the renovation, so it was very important to us that it be "dust-free". The vacuum equipment they use is extremely powerful, and is attached to all of the chippers and grinders. The floor is now a nice clean, blank slate, ready for our tile installers. Great job guys!

I highly recommend using this company to remove your tile. I needed tile removed from 5 rooms, a linen closet, a large foyer and a very long hallway. Brett, Heidi and Stephanie answered my many questions thoroughly and always returned my calls promptly. They made the process stress free. Brett and his crew arrived on time and only took half a day to complete the job. They were very professional and when they were done there was absolutely no dust and my concrete floors looked beautiful and smooth and ready for my new floor to be installed. They left my house very clean. I highly recommend Brett and his team whether you are doing one room or an entire house.

Diane Anthony
01:41 09 Dec 19
Bret, Heidi and Stephanie (and Chris and crew) were the most accommodating for my husband and I!! We recently purchased a new home, and all but one room had laminate flooring....except the dining room. That nasty tile had to come up. Well, they were able to get it removed flawlessly for us, with NO DUST blanketing the entire house. Thank you so much for helping us 'make this home ours'! I would highly recommend their services to anyone. Customer for life! Thank you.

lauri hettig
13:46 23 Feb 20
I was frustrated trying to find a tile guy who could remove my 1000' of floor tile and try to keep the job site clean and do it asap. I have to live here too! It is a miserable situation no matter how you slice it. I use to do this type of work so I was skeptical anyone would do the removal as well as I could. I can't work that hard anymore.I found Dust Free and again, very skeptical I hired them. They showed up on time and quickly set up the equipment. They had 6 or 7 workers and they worked very efficiently. Each with their own special high powered vacuum tools. They spread out and got right to work.The job was finished by mid day and I was a happy man! The floor was clean, smooth and no dust! I was going to put up all sorts of plastic and towels under the doors...I just let them do their work and the whole experience was terrific!The value was very good. I would have paid about the same amount to have two guys show up when they felt like it, and would have to deal with days filled with dust clouds floating through my house!If you face the same situation as I did, hire this company now and save yourself a lot of worry and grief!!!

We recently had 1400' of tile pulled up and couldn't be happier with the results! The job was completed on time and the site was kept very clean. By the end of demo day my wife and I were able to walk barefoot on the clean slab.Justin and Andrea

Justin Brooks
14:21 12 May 20
Professional all the way from estimating, booking, doing the job, and cleaning up. Their concern for their customer - you and your home - is so refreshing. Did a great job. Highly recommended!

debbie watson
20:05 23 Jun 19
Brett and his guy's are Awesome!! There's no job that they can't do. Honest and clean. What a pleasant surprise. We needed the rest of the flooring taking out and I couldn't bear to go through all the dust in the house again. I took a chance and called them on a whim hoping they could come out sooner then later. They were out soon enough and rescued my kitchen floor dust free. It was just remarkable from the time I called them until it was finished. Polite and reliable.

Lisa Hilty
21:13 13 Dec 20
Bret and his crew showed up exactly when they said they would. I had some tile removed from a bathroom. The tile was removed and they were packed up and gone in about an hour. Nothing in an adjoining closet had any dusting or debris on it. I'm amazed that they could do it in such a timely efficient manner and no dust anywhere. The floor looked like nothing had every been on it. Bret provided recommendations on future work we intend to do. Great job done professionally, for a reasonable price, exactly when they said they would do. What more can you ask for? I look forward to using them on our next job.

Jeanette Poore
02:09 30 May 21
We were not able to use their services however they answered the phone promptly with no prerecorded service and no prompts to press which is awesome and saves me time! They were professional and friendly and were able to direct me where I needed to go! Thank you !

Shauna DesChamps
12:37 08 Jul 22
At first I was going to attempt this project on my own but was referred to Central Florida Dust-Free Tile Removal from a friend. It was a quick and easy turn around on something that would of taken me weeks. Thank you so much for all the help!!!

Did a great job. Arrived on time with crew and equipment. Had both tile and hardwood up in same day. Cleaned up and ready for new flooring install by end of the day.

Tony Gregory
10:50 22 Nov 23
Great team ! Hard working. Very professional. Will highlyRecommend them.

Debbie Kirtley
12:00 18 Aug 23
Thank you Bret for an amazing Job and thank you Heidi for your prompt communication

Dragon Man
02:27 22 Sep 19
"Wow" that is all that I have to say! I waited more than 2 hours to write this review to see if it was a totally "Dust Free" process, and I can say...Yes it is!!!I have saltillo tile that Bret and his team removed from my family room today. I knew the project would be hard, because little did Bret know, we the owners, layed the tile! (and believe me, we layed a ton of thin set under it)Thk-u Bret for doing...actually, an outstanding job! Lol! If we ever remove our saltilo tile from our formal living room/dining room, I am calling you! Thks again for doing an outstanding job!

Maureen Smith
20:53 28 Aug 19
removed old tile from floors and master bath in order for new tile install,they were all very nice and worked the whole time they were here.

Larr Williams
20:53 17 Feb 22
I have been around construction all of my life. I have rarely encountered a more professional company than this firm. They are responsive over the phone, are up front on costs, and don't try for add-ons They have one of the best statements of responsibility for both the company and the home owner that I have seen. The crew arrived on schedule, performed the work on schedule, - my wife really liked this-they wiped down all the horizontal surfaces as well as the windows prior to departure. The price was right, and the crew was dedicated and great. The work was as advertised. Equipment did contain all but some fine dust. The finished product was excellent. I would not hesitate to use them again. It is important to note that owners have responsibilities in emptying spaces and general prep clearing the site for the workmen. Tis is well defined in material given to the owner in advance.

Ronald Brown
17:54 19 Apr 20
These guys deliver phenomenal service in a timely manner. Final price was as quoted. Would definitely recommend them to my friends and family. Will use again in the future! These guys were amazing. They arrived at 7:30am, removed 1000 sq. ft of stubborn tile. Then cut a trench in the slab so I could relocate a sink drain. The trench was a work of art. Cleaned up an were out of my life by 3:30. Absolute pros.

Derek Bernard
22:33 18 May 21
I highly recommend CFL Tile Removal. Brett, Chris and the team did an amazing job. Having such a large crew along with all state of the art tools/equipment allowed for them to remove over 2,100 sq feet of tile and wood flooring in just 2 days. The crew was extremely clean throughout the process and at the end wiped down every nook and cranny that any small mounts of dust could gather. Brett's wife Heidi handled the contracting with us and home to prepare our home for their arrival. We found Heidi to be a great communicator, which allowed us to have a smooth process from start to finish. We will be referring friends and family without hesitation to CFL Tile Removal.

David Stino
15:55 21 Jul 22
This contractor is responsive, informative and honest from the first phone call. My wife's initial contact was with Heidi who answered the many questions we had and spent a good amount of time on the phone explaining the tile removal process. My first appointment had to be rescheduled due to a delay in receipt of my new flooring, which CFL Dust Free Tile Removal gladly changed for me at no charge. The day of removal Bret and his crew arrived on time and immediately started working. While the crew was setting up, Bret explained how the job was going to be accomplished. These guys work hard, are honest and very polite. I can tell you that had my wife and I tried to remove the 600 sq. ft. of tile ourselves, we would have spent more money in time off work, rental equipment, and supplies. Hiring this company is well worth the money and you will be so pleased with their work. I highly recommend Bret, Heidi and their hard working crew!

Peter Goltzman
19:23 12 Jan 20
Excellent work and service. Responsive, arrive on time, and do a great job. All workers were professional and kind. They went above and beyond... and even helped take down some Christmas lights before they left!! 🙂

Nancy Burwinkel
17:20 25 Feb 20
Had the absolute best experience with this company. We needed old tile & tile baseboards removed in over half of our house, and after making a few calls I chose CF Dust Free. I am so glad I did!Heidi is amazing - she answered every question I had immediately and was so kind and helpful. We had an opportunity to move our project date earlier due to other scheduled renovations, and she put tons of extra effort to work it out on their schedule.The preparation instructions are perfectly clear and detailed so you know exactly what to do before the crews arrive. The day of, crews were right on time and ready to work. I'm talking hustling & bustling and working their tails off from the get-go! Bret was so friendly and knowledgeable. He did a walk through, explained everything & answered all our questions. The whole crew clearly had a lot of combined experience.They were done hours earlier than we anticipated, including clean up - if it weren't for the concrete floors, you'd never know they were there at all.I highly recommend this company. 5 well-earned stars!

Amelia Frederick
13:23 23 Apr 22
Can't say enough good things about CF Dust-Free...they did an amazing job! Brett and his crew removed the tile throughout my entire house in 4 hours. The concrete floor was smooth when they were finished and there was no dust. My house was left perfectly clean. I would highly recommend using this company for any type of floor removal. I am a tile contractor and heard about Central Fla Dust-free tile removal from a general contractor friend of mine. I was amazed at the quality and workmanship of this company. Job was completed beyond my expectations. Bret and Chris and crew were on time, clean neat and with great attitudes. Job was completed and cleaned up ready for me to tile.I will use Central Fla Dust-free tile removal for all my tile demo in the future. Thank you for being a Professional company.John Kaminski Owner / Operator

John Kaminski
16:32 14 May 20
Highly recommended.. very professional, showed up the time we were told. Got all my tile and everything pulled super quick and I could cook dinner that night in my kitchen with NO DUST.. thanks again to the team 🙂

Lisa Barrett
22:39 07 Nov 19
Brett & his crew showed up when they said they would , got right to work removing all the tile from the house we are renovating, and cleaned up all of their work area . The price was right and exactly what was quoted! If we ever have another job to be done, we will definitely use them and have already given their information to several of our neighbors.

Gillian Wickenhauser
20:17 03 Jun 20
Best decision we've ever made! 1 1/2 days to remove all the tile in our house. Very polite, professional and on time crew. You will still have dust, but it's minimal. We cleared the house out and let them do their job. We came in and clean up was a breeze. The installers came in and were very impressed at how well the floors looked. Minimal prep work for new floors. I can't say enough great things about this company. I was so impressed and would use them again in the future. These guys were great. They pulled up all the tile in my kitchen and it only took half a day in and out and my floor is down to the Natural concrete. They also gave me a good price.

david sevcech
17:57 18 Jan 20
Do you live in a condominium?  We are Deland's condo specialists!
Our process is so clean and fast, you can live in your home while we remove your flooring!
Fast, Clean & Professional.
Watch our process…
Fast, Clean & Professional.
Watch our process…
Areas served
Central Florida Dust-Free Tile Removal LLC serves the following areas in Florida:
Brevard County, Flagler County, Lake County, Osceola County, Orange County, Seminole County, Volusia County, Altamonte Springs, Apopka, Astor, Barberville, Belle Isle, Bithlo, Bunnell, Cassadaga, Casselberry, Christmas, Chuluota, Clermont, Cocoa, Cocoa Beach, Daytona Beach, Daytona Beach Shores, Debary, Deland, DeLeon Springs, Deltona, Doctor Phillips, Edgewater, Flagler Beach, Geneva, Heathrow, Holly Hill, Hunter's Creek, Indialantic, Lady Lake, Lake Buena Vista, Lake Butler, Lake Mary, Longwood, Maitland, Melbourne, Melbourne Beach, Merritt Island, Mims, Mount Dora, Montverde, New Smyrna Beach, Oak Hill, Ocoee, Orange City, Orlando, Ormond Beach, Ormond by-the-Sea, Osteen, Palm Coast, Pierson, Ponce Inlet, Port Orange, Port St John, Rockledge, Sanford, Satellite Beach, Scottsmoor, Sharpes, South Daytona, Titusville, Union Park, Wekiva, Winter Park, Winter Garden, Winter Springs, and Windermere